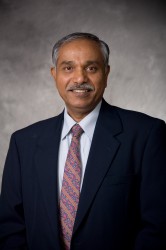 Pramod Mahajan, associate professor of pharmaceutical sciences.
Drake pharmacy and health science students will soon be able to analyze genetic information, make more informed prescribing decisions and learn advanced disease prevention skills thanks to a federal appropriation announced recently.
In early September, the Drake University College of Pharmacy and Health Sciences received a federal appropriation of $396,000 to purchase equipment and supplies for an upcoming Pharmacogenomics and Disease Prevention Laboratory.
That money, combined with a $60,000 grant from the Iowa Board of Regents' Grow Iowa Values Fund in April 2009, will cover the first phase of a two- or three-phase project to integrate undergraduate students, continuing education students and local health care professionals into the laboratory. There, students will learn skills of personalized medicine and disease prevention, said Pramod Mahajan, associate professor of pharmaceutical sciences.
"Drake's College of Pharmacy and Health Sciences will be one of the few privately run pharmacy colleges, which are not associated with a medical school, to have these facilities," Mahajan said. "This should attract some very high-quality students."


PERSONALIZED MEDICINE TAILORS DRUGS TO PATIENTS' GENETICS
Pharmacogenomics (PGx) is a rapidly growing field of health science that focuses on how genes affect the way individuals respond to drugs.
A patient's genetic information — collected on a simple cotton swab from the inside of the patient's cheek — can be used to choose the right medications and doses to treat conditions such as cancer, leukemia and hypertension.
More than 500 FDA-approved medications have these genetic components associated with them. Drake's new lab will give students the skills to harness the maximum benefits of those medications and understand the science behind them.
"This is the future of medicine," said Mahajan, who has more than 25 years of research and teaching experience in academia and private industry. "Every new drug that gets developed will follow these guidelines that the FDA has set. The expectation is that every health care worker in the future will know about this, and every researcher working in the pharmaceutical industry working with drug development will know about this."
Nate Verlinden, a second-year pharmacy student from Manitowoc, Wis., said students typically learn the basic science behind how prescription drugs work, why they work and what possible side-effects they carry.
The pharmacogenomics lab will allow Verlinden and other students to go beyond that basic science to a more specific, personalized view of drug effects. He envisions Drake students performing genetic analysis for clients ranging from local hospitals to big drug companies.
"I doubt there are a whole lot of pharmacy schools who are doing this research," Verlinden said. "I'd say we're probably blazing a trail rather than just keeping up."
The science behind PGx helps health care professionals break away from a one-size-fits-all approach to prescription medicine that has long been dangerous to patients. According to some reports, in the U.S. alone, nearly 1 million people are admitted to the hospital every year solely due to drug side effects. Almost 100,000 people die for the same reason, according to Mahajan.
"In most cases, there is nothing wrong with these drugs that are being prescribed," Mahajan said. "They have been approved by the FDA. It's just that they are prescribed to the wrong people and in the wrong doses. If we know the genetics of the individual, we can minimize that risk."
Undergraduate students and continuing education students who use the new PGx laboratory will learn to collect and preserve DNA samples, extract DNA from samples, purify the DNA, analyze the sample and apply their analyses to real medical conditions and prescription decisions. Among the tools that will be at a student's disposal: a DNA sequencer, thermocyclers, centrifuges and spectrophotmeters.
Bob Solstis, professor of pharmacology and chair of the department of pharmaceutical, biomedical and administrative sciences
Lab also promotes disease prevention
The disease prevention side of the new laboratory will feature equipment that students can use to measure physiological data such as blood pressure, heart rate, cholesterol, bone density and range of motion.
Students will use these tools to evaluate one another and, ideally, real patients from Des Moines-area hospitals.
"That's the community service part of this," said Bob Soltis, professor of pharmacology and chair of the department of pharmaceutical, biomedical and administrative sciences. "We'll be able to bring in people from the community, counsel them and give them ideas on how to improve their health."
That experience will give students a leg-up on nearly every area of health care, from clinical practice to biomedical research to health care administration, Soltis added.
The disease-prevention lab will include an isokinetic machine, ergocycles, bone density machines and computer-based physiology data collection system.
"Any time we can get students hands-on access to new equipment, it bolsters their possibilities to get into the medical field," Soltis said. "Our students will learn to use the cutting-edge equipment you'll see at clinical practice offices and some of the mobile clinics."