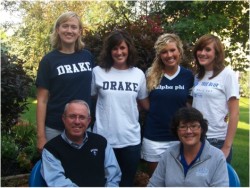 The Judge family.
From the seats in the Knapp Center to the classrooms of the Fine Arts Center, the Judges' involvement in Drake has spanned many interests and many years.
Kenan and Kathi Judge and their daughters were honored as Drake Family of the Year during Parents and Family Weekend last month.
Lindsey Schaefer, a sophomore music and public relations major from Waukee, Iowa, nominated the family for the award.
"This family has truly taken on the Drake spirit," she said. "The Judge family has such strong Drake pride and maintains all of the values that make Drake the wonderful place it is.
"This family has made such a big impact on my life, and I cannot say enough good things about them," she added. "I have seen them touch the lives of so many people throughout the Drake community."
The couple has four daughters: Kellie, Melissa, Madeline and Ellen. Melissa graduated from Drake in 2010 with a degree in music education, and Madeline is a Drake sophomore majoring in music performance.
"We're both very proud to have family members who have gone to Drake," Kathi said. "It's just been a wonderful experience for our entire family."
Though their two daughters have gotten them more involved in the University, Kenan's passion for Drake started as a child. The first basketball game he watched on television was the 1969 Final Four game between Drake and University of California, Los Angeles.
"He has loved Drake ever since," said his wife Kathi.
The Judges, who live in Clive, Iowa, have been Drake men's basketball season ticket holders since coach Tom Davis took the reins of the program in 2003.
"I can't explain what a fan of Drake my husband is," Kathi said. "He doesn't hesitate to tell people how much he loves Drake and how lucky we are to have Drake in our community"
Kathi became more involved in the Drake community when her daughter, Melissa, convinced her to join the Drake Community Choir. She has really enjoyed the experience and promotes the choir to anyone she meets who is interested in music.
"I'm not sure how many I've recruited but at least I've put the idea in their minds," she said.
Kathi added that she and her husband have been very impressed with Drake's vocal music program. The couple knows many of the students in the music program through hosting students at their home, and Kathi and her mother traveled to England with Drake's Chamber Choir last January.
"It was fabulous witnessing music touch the hearts of the students and the audience," she said of the choir's performances abroad. "Seeing them connect with people in other cultures was absolutely amazing."