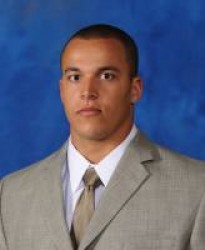 Dain Taylor
Drake senior defensive end Dain Taylor (Highlands Ranch, Colo.) received honorable mention honors as the College Football Performance Award Division I Football Championship Subdivision defensive lineman of the week for his effort in the Bulldogs' 21-19 victory Sept. 25 at Valparaiso.
Taylor had six tackles, including five solo hits, while recovering a fumble. He also had 3.5 tackles totaling 14 yards in losses, along with a half-quarterback sack, and two pass break ups.
He ranks sixth in the Football Championship Subdivision in tackles for losses, averaging 2.13 per game.
He also is the Pioneer Football League active career leader in tackles for losses with 39.