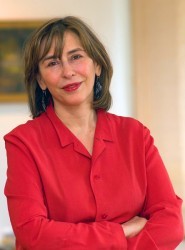 Azar Nafisi
Azar Nafisi, author of the national bestseller "Reading Lolita in Tehran: A Memoir in Books," will present Drake's 25th Martin Bucksbaum Distinguished Lecture on Wednesday, Oct. 27.
The lecture, which is free and open to the public, will start at 7 p.m. in Drake's Knapp Center. A book signing will follow the lecture, which is titled "The Republic of the Imagination."
"Reading Lolita in Tehran" describes the Islamic revolution in Iran and how it
affected one university professor and her students. The book, which has been translated into 32 languages, has won numerous awards and been named one of the "100 Best Books of the Decade" by The Times of London.
Nafisi taught at the University of Tehran, which expelled her for refusing to wear the mandatory Islamic veil. She has lived in the United States since 1997 and is now a visiting professor and director of cultural conversations at the Foreign Policy Institute of Johns Hopkins University's School of Advanced International Studies in Washington, D.C.
In her Drake lecture, Nafisi will explore the power of literature to transcend political borders and to liberate minds and peoples.
Nafisi wrote about this subject in a 2004 article in the Washington Post in which she recounted the story of a former student who told her after being released from jail that she and one of her cellmates kept their spirits up by exchanging stories about their class discussions, about the books they read, about Henry James and Scott Fitzgerald.
In her books and her lectures, Nafisi uses her life experiences to demonstrate the value derived from literature and how she has used that knowledge in her own life.
She has lectured and written extensively in English and Persian on the political implications of literature and culture. She also focuses on the issue of human rights of Iranian women and girls and the important role women play in the push for pluralism and an open society in Iran.
Nafisi's most recent book is "Things I Have Been Silent About: Memories," a memoir about her difficult childhood and dysfunctional family. Her mother was a member of the Iranian Parliament at the same time that her father, once mayor of Tehran, was in jail on trumped-up charges of financial irregularities.