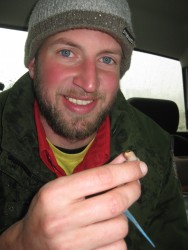 Vogel, a herpetologist for the Wyoming Game and Fish Department, holds his discovery — the Great Basin Skink.
Hank Vogel, AS'07, and a team of herpetologists, recently discovered a species of lizard never before found in the state of Wyoming — the Great Basin Skink.
"The discovery of the skink was such a thrill," said Vogel, who joined the Wyoming Game and Fish Department in April. "I found the skink under a piece of corrugated tin, and I was shocked. I knew it was a skink, but I also knew that the nearest skink was more than 100 miles away."
The creature, a native to Utah, Arizona and Idaho, is a shiny reptile with a long regenerative tail, a stout body and short limbs. The skink prefers environments such as river corridors, canyon bottoms and moist grasslands, where it maintains a diet of grasshoppers, crickets and beetles.
"After reality set in, we figured out that we were looking at a new state record and there were a lot of high-fives and hugs all around," Vogel said.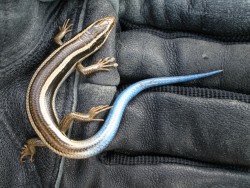 The juvenile skink has a bright blue tail which becomes darker as the reptile matures.
Vogel's work is part of an intensive state effort to identify species of special concern through the Wyoming State Wildlife Action Plan. Researchers are working to learn more about herptiles, including skinks, salamanders, toads, frogs and snakes, in order to take steps toward protecting habitats and promoting population growth.
Vogel credited his mentors at Drake for inspiring him to pursue a career in research. His first herpetology class was taught by James Christiansen, professor emeritus of biology.
"My interest in reptiles and amphibians really took off after Dr. Christiansen's class," Vogel said. "He was one of the most interesting people I have ever worked with because of the stories he told and his 'old-school' methods of field research."
Keith Summerville, associate professor of environmental science, and Tom Rosburg, associate professor of biology, also served as mentors to Vogel, introducing him to the Drake Undergraduate Science Collaborative Institute (DUSCI).
"The DUSCI program allowed me to continue working with reptiles and amphibians," Vogel said. "Without the experience I gained at Drake from the opportunities Keith and Tom provided for me, it would be difficult seeing myself where I am today."