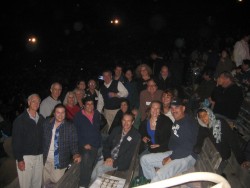 Alumni reminisced about their time at Drake and enjoyed each others' company.
More than 30 members of the Drake family living in California gathered to reconnect with old friends and enjoy a concert by the Los Angeles Philharmonic in September.
"The evening was spectacular," said event organizer Laurie Manny, BN'82. "We had a good turnout, beautiful weather, a fireworks display, an overabundance of food to share and an energetic concert featuring many surprise performers — the cast of Sesame Street, the Pink Martini Orchestra, vocalist Jane Powell and NPR correspondent Ari Shapiro!"
Fourteen local alumni and their families attended the event, as well as an unexpected visitor.
"We literally held our breath at dusk when a skunk wandered down the nearby hill and into some ivy a short distance away from our picnic tables," Manny said. "Eventually, the skunk left — we were very happy to be ignored!"
Laura Palmer, who serves as regional major gift officer for Drake's Office of Alumni and Development, traveled to California for the event.
"The Hollywood Bowl is a great example of what makes up the essence of the Drake family," Palmer said. "Drake alumni who attend the event come from different graduate years and different backgrounds, but they can all get together, have a potluck and talk about their Drake experiences. There is a great sense of community at events like the Hollywood Bowl concert."
Organizers plan on staging another Hollywood Bowl concert gathering next year. All Drake alumni are invited to attend.