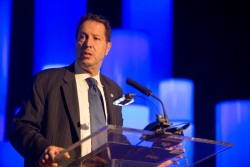 President David Maxwell announces the campaign at the summit.
Drake University announced yesterday the launch of a $200 million capital
campaign designed to propel the University to its place as one of the
nation's very best institutions of higher learning.
The public phase of the distinctlyDrake
campaign, which will span four more years, kicked off with a Volunteer
Leadership Summit that included more than 300 members from Drake boards
and committees in a celebration of philanthropy. View photos of the summit in an online gallery.
"Thanks to the leadership and hard work of many, we are poised to
build upon a vibrant and stable foundation and envision an
extraordinary future for Drake University," said Don Fletcher, chair of
the University's Board of Trustees and a 1967 graduate of Drake.
"Drake University is becoming increasingly recognized as one of the
very best universities of our kind in the country by our colleagues at
other colleges and universities," Fletcher added. "With that
recognition comes responsibility — responsibility to serve as a
national model for exceptional learning, for best practices and for
service to the nation.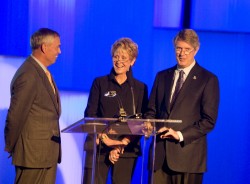 Campaign co-chairs Larry Zimpleman, Peggy Fisher and Jim Hubbell III prepare to address the crowd.
Drake President David Maxwell said, "Fulfilling our vision to be one of
the best institutions of higher education in the United States requires
achieving specific objectives — goals that mean we need to raise
approximately $200 million, which is really a starting point.
"We already have received more than $74 million in gift commitments
from donors who are passionate about the quality of the Drake
experience," added Maxwell, who has served as president of Drake since
May 1999.
Maxwell said the following distinctlyDrake priorities will enhance the University and Drake experience for students, faculty and staff:

Attracting and empowering the best and brightest students through $50 million for scholarship endowment
Attracting and retaining the finest teachers, mentors and scholars
through 26 endowed faculty positions at $26 million to $50 million
Improving and enhancing physical facilities, technology and resources on campus through $50 million to $85 million
Broadening perspectives through innovative and expanded interdisciplinary centers through $15 million to $18 million
Build on collective financial strength through the Drake Fund through $3.5 million to $4 million per year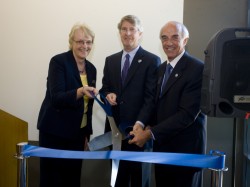 Carla Carlson, Jim Hubbell III and Don Fletcher get ready to snip the blue ribbon at Hubbell North ceremony.
In addition to Maxwell, the three campaign co-chairs, who are
members of the Drake Board of Trustees, spoke at the Volunteer
Leadership Summit: Jim Hubbell III, chairman of Hubbell Realty Company;
Peggy Fisher, a 1970 graduate who is co-owner and chief strategic and operating officer of the Stelter Company in Urbandale; and
Larry Zimpleman, a 1973 and 1979 graduate and chairman, chief executive officer and president of Principal Financial Group.
Following the summit, participants enjoyed a lunch in the newly
remodeled Hubbell Dining Hall North.
They then attended a ceremony to
celebrate the $5 million renovation that transformed vacant, outdated
space into a contemporary student hangout offering myriad opportunities
for dining, socializing and recreation.
The hall is named after the late Grover Hubbell, longtime member and
president of Drake's Board of Trustees.
The renovation was made
possible by gifts and pledges from the Hubbell family, Hubbell Realty
Co. and the Windsor Charitable Foundation, and funding from Sodexo Inc.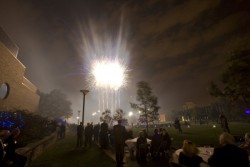 Dazzling fireworks lit up the night.
The Hubbell North renovation is just one of the many projects funded
by donors as part of the campaign that helped build a strong foundation
for distinctlyDrake. Many of the gifts have been paid in full and all of the pledges
will be fully funded in the next five years. Read more
about the more than $74 million in gifts and commitments received from
donors.
Drake held a dinner Friday night for major donors and capped a
pivotal
day in its history with a blue-and-white fireworks display in Helmick
Commons. View photos of the event and firework show in an online gallery.
As part of the campaign, Drake is inviting alumni, students,
faculty, staff and friends to share their Drake love stories, featured
on the distinctlyDrake website, YouTube at youtube.com/godrakebulldogs, Facebook www.facebook.com/drakeuniversity. Love stories can be submitted on the distinctlyDrake website or sent to love@drake.edu.
The video booth will be available for two weeks. View a video on how to use the booth.