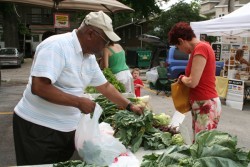 The final Drake Neighborhood Farmers' Market of the season will be held on Wednesday, Sept. 29. This season was marked by good attendance and an abundance of fresh and delicious produce.
Keeping in line with the market's season long goal of promoting healthy living, representatives from Visiting Nurse Services will be on hand to discuss the Healthy Start and Empowerment Project, which provides health information and resource services for families.
The market is open from 4 to 7 p.m. every Wednesday through Sept. 29 in the parking lot of First Christian Church, 2500 University Ave. Free parking is available for shoppers across from the market on the east side of 25th Street.
A health tent, where shoppers can have their blood pressure and blood sugar levels measured for free, is available every week.
The market is a nonprofit, community project sponsored by First Christian Church, the Drake Neighborhood Association and Drake University.
For more information, call Ginny Gieseke at 515-277-6951 or visit the Web site at www.drakefarmersmarket.com.