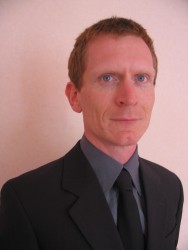 Renaud Colson, vice dean of international relations
at the University of Nantes in France, will deliver a lecture at Drake Law
School on "France and the Gypsies" on Wednesday, Sept. 29.
The event, which is free and open to the public,
will begin at 3 p.m. in room 203 of Cartwright Hall, 2621 Carpenter Ave.
Colson will discuss historical discrimination
towards the Roma people and the legal and political implications of France's
current policies towards the group. He will address President Nicolas Sarkozy's
recent order to dismantle traveler's camps and expel Roma with generational
roots in Romania and Bulgaria — an action that was labeled as xenophobic by
human right groups.
Colson earned his bachelor's degree from Cardiff
University in Wales, the United Kingdom and his master's degrees in legal
theory from the Facultés Universitaires Saint Louis in France and the
Katholieke Universiteit Brussel in Brussels, Belgium.
Colson's visit is a component of the Drake Law
School's decade-long partnership with the University of Nantes, where Drake
students can spend a summer learning about comparative and international law
subjects. The 2011 Summer in France Program is tentatively scheduled for May 23
through June 28.
For more information, contact Associate Dean Andrea Charlow at 515-271-3985or andrea.charlow@drake.edu.