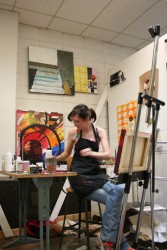 A student creates art based on the relationship between the natural world and how it becomes embedded within urban environments.
CONTACT: Tory Olson, 515-271-1834, tory.olson@drake.edu
This year's Drake University Professor Project will exhibit student artwork inspired by the research of Amahia Mallea, visiting professor of history.
View photos of students creating artwork in a photo gallery online.
A free, open to the public reception will be held from 5 to 7 p.m. on Friday, Oct. 8. The exhibit will run through Sunday, Nov. 7, in Drake's Anderson Gallery in the Harmon Fine Arts Center, 2505 Carpenter Ave.
Mallea's presentation to the painters — titled "The River Becomes You" — discussed the relationship between the natural world and how it becomes embedded within urban environments. She focused on the history of the Missouri River and its integration into the social and ecological history of Kansas City.
"My lecture sought to inspire students to imagine what they cannot see," Mallea said. "The infrastructure buried underground and behind walls — like drinking water and sewerage systems — connect urbanites to their surroundings. Infrastructure is an easily overlooked part of our past and present even though intakes, pump houses, pipes and gutters not only make a city possible,
they influence the structure of society."
Now in it's sixth year, the Professor Project merges visual art with inspiration from another field of academia.
The student artists are members of painting courses taught by Angela Battle, associate professor of art and design, who serves as coordinator of the annual interdisciplinary project.
"I can never predict the trajectory of outcomes for this project — that's the wonder and the risk of it," Battle said. "The Professor Project engages young artists by exposing them to materials and ways of thinking that are new to them. Their work is a response to something new within the existing formal and conceptual frameworks in which they are familiar."
The exhibit is co-sponsored by Friends of the Drake Arts.
The gallery's regular hours are 12 p.m. to 4 p.m, Tuesday through Sunday.
For more information, contact Gallery Director Heather Skeens at 515-271-1994 or heather.skeens@drake.edu.