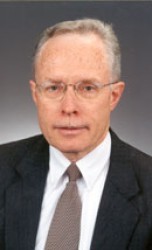 James Cullen
Retired Brig. Gen. James Cullen of the United States Army
Judge Advocate General's Corps will present a public lecture at Drake
University on Monday, Sept. 27, about "Human Rights and Accused Terrorism Suspects."
The free lecture will begin at 7 p.m. in room 106 of Meredith Hall, 2805 University Ave.
Cullen has almost 27 years of combined active
duty and reserve service. He last served as chief judge of the
U.S. Army Court of Criminal Appeals and retired in 1996. He is actively
involved with a group of retired generals and admirals working with Human Rights First to restore American adherence
to treaty obligations and domestic law applicable to interrogation and
detention of prisoners taken in conflict, including those at Guantanamo Bay.
The lecture, which is part of the fall 2010 Foreign Policy Series, is sponsored by Drake's Center for Global Citizenship and co-sponsored by the National Security Network. The series will continue at 7 p.m. on Mondays. Upcoming events include:
Oct. 4 — "U.S.-China Economic Relationship" presented by Henry Levine, deputy assistant secretary of commerce for Asia in the
Clinton Administration, in room 106 of Meredith Hall
Oct. 11 — "The New Strategic Arms Reduction Treaty" presented by retired Lt. Gen. Robert Gard Jr. in room 206 of Cline Hall of Pharmacy and Science, 2802 Forest Ave.
Oct. 25 — "The Middle East's Dramatic Change: Why It's A Global Focal Point" presented by Barry Rubin, in room 106 of Meredith Hall
The complete fall semester schedule of events for the Drake Center for Global Citizenship is posted at https://wwww.drake.edu/international/cgc/eventsf10.php and includes speakers in foreign policy, education, human rights and cultural studies.
For more information, contact Darcie Vandegrift, director of the CGC, at 515-271-2840 or darcie.vandegrift@drake.edu.