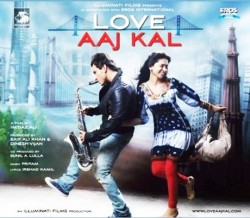 "Love Aaj Kal," a 2009 Indian film about love and heritage, will open the fall 2010 Drake International Cinema Series on Thursday, Oct. 7.
Free and open to the public, the screening will begin at 8 p.m. in Room 206 of Cline Hall, 2802 Forest Ave.
Filmed in India, London and San Francisco, "Love Aaj Kal" follows a couple in love separated by geography and social obstacles. The film and its soundtrack were major hits following their release, grossing more than $20 million.
The series is co-sponsored by Drake's Center for Global Citizenship (CGC) and the Drake International Student Association. A full list of events can be found online.
For more information, contact Darcie Vandegrift, director of the CGC, at 515-271-2840 or darcie.vandegrift@drake.edu.