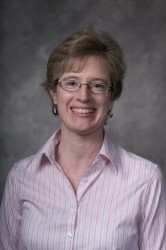 Maura Lyons
Maura Lyons, associate professor of art and design, and Mark Vitha, associate professor of chemistry, will examine the relationship between their respective disciplines in an upcoming lecture, "The DaVitha Code, or: How I Learned to Stop Worrying and Love the Chemistry of Art."
The presentation is part of the 2010 Drake Center for the Humanities Colloquium Series. It is free and open to the public and will be held from 3:30 to 5 p.m. in Room 206 Cline Hall, 2509 University Avenue on Friday, Sept. 24.
"The lecture will focus on the kinds of questions that are asked and answered by each discipline as well as how the two can work together," said professor Lyons who, with professor Vitha, attended a workshop sponsored by the National Science Foundation earlier this year, from which their presentation draws.
They look in particular at the history and chemistry of the dye cochineal and the chemical issues related to the analysis and restoration of art. The event will offer some hands-on experiments for audience members.
Professor Lyons, an art historian whose work focuses on American art, received her master's degree and a Ph.D. from Boston University before coming to Drake in 2000. Her 2005 book, "William Dunlap and the Construction of an American Art History," examines the influence of Dunlap on the development of the study of the history of art. She teaches various courses in art history.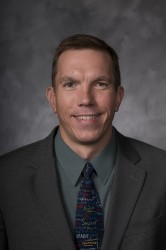 Mark Vitha
Professor Vitha received his Ph.D. from the University of Minnesota and
joined Drake's faculty in 1998. He has published articles in Analytical
Chemistry, the Journal of Chromatography and the Journal of Chemical
Education. Professor Vitha also is the editor of the Chemical Analysis
Series for John Wiley and Sons.
The Humanities Colloquium Series will continue through the fall with
the following presentations, which will take place from 3:30 to 5 p.m.
in the Honors Lounge of Medbury Hall:

Oct. 8 — Mahmoud Hamad, assistant professor politics, "All for the Family: The Father-Son Succession in Republics"
Oct. 22 — Eduardo Garcia, assistant professor of Spanish, "Mexico
Celebrates 2010: Learning about Mexican Identity with Authentic Videos"
Nov. 5 — Joan Faber McAlister, assistant professor of rhetoric,
"Intimate Artifacts and Aesthetic Agents: Rhetorics of Preservation and
Transformation in Two South African Prison Museums"
Nov. 19 — Renee Cramer, assistant professor of law, politics and
society, "Signs at Odds? Reading Law, Legitimacy and Authenticity in
Tribal Demarcations"
The University's Center for the Humanities sponsors the ongoing
colloquium series that features faculty members whose work involves
questions and topics relevant to the humanities.
For more information about the series, contact Joseph Schneider at 515-271-2158 or joseph.schneider@drake.edu.