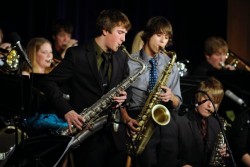 Drake University's jazz ensembles will perform a joint concert at 8 p.m. on Friday, Sept. 24.
The concert, which is free and open to the public, will be held in the Performing Arts Hall of Drake's Harmon Fine Arts Center, 25th Street and Carpenter Avenue.
Drake Jazz Ensemble One will perform an eclectic set including a tune titled "From the Eyes of a Child," which was written by director Andrew Classen, the Fred and Patty Turner professor of jazz studies.
Roger Ingram, who serves as lead trumpet with Harry Connick Jr.'s orchestra, will join Jazz Ensemble One to perform a solo on Herbie Hancock's "Watermelon Man."
Ingram is a nationally renowned jazz musician and educator who has performed with Wynton Marsalis, Ray Charles and Liza Minnelli. He serves as artist in residence at the Chicago College of Performing Arts at Roosevelt University.
Jazz Ensemble One will also perform:
* "Blues and the Abscessed Tooth," written by Matt Catingub

* "You Are My Everything," arranged by Thomas Matta

* "Time Check," written by Don Menza

* "La Nina Nueva," written by Matt Harris

* "The Louie Shuffle," written by Louie Bellson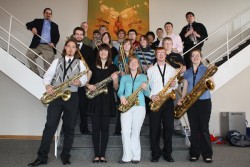 Jazz Ensemble Two, directed by James Romain, will perform a jazz standard, a Brazilian samba and an up-tempo blues.
Drake Jazz Ensemble Two, directed by James Romain, associate professor of saxophone and jazz studies, will perform:
* "Alright, Okay, You Win," written by Count Basie

* "Agua de Beber," written by Antonio Carlos Jobim and arranged by Michael Mossman

* "Tri-Bop," written by Bill Liston
For more information, contact Drake's Department of Music at 515-271-3975.