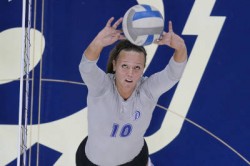 Junior setter Caitlin Johnson set a career-high with 40 assists.
Senior outside hitter Angela Bys (Marion, Iowa) had a season-high 22 kills as the Drake women's volleyball team remained unbeaten, rallying to post a 3-2 (24-26, 25-21, 25-19, 15-8) victory past Iowa Tuesday night before a record home crowd of 1,215 fans.
The Bulldogs, who are one of just 14 undefeated NCAA Division I teams in the country, improved their record to 14-0 entering their Missouri Valley Conference opener at Evansville Friday.
Iowa, suffering its second-straight loss to Drake, fell to 5-3.
Drake stormed out of the gate in the decisive fifth set, grabbing a 12-4 lead en route to a 15-8 victory. Bys had five kills in five attempts for the Bulldogs in game five.
Iowa rallied from a 12-4 deficit to win the first set, 26-24, ending a string of 16 consecutive sets that Drake had won dating back to a match against North Dakota State on Sept. 15.
The Bulldogs came back to win the second and third sets by scores of 25-21 and 25-19. Iowa won the fourth set, 25-23.
Bys and Junior setter Caitlin Johnson (Sycamore, Ill.) notched double-doubles on the night with Johnson shattering her career-high with 40 assists. Senior setter Susan Clausen (Johnston, Iowa) added a career-best 21 assists and was a dig away from a double-double with nine. Sophomore outside hitter Whitney Westrum (Waukee, Iowa) tallied a career-high nine kills.
Drake senior Alana Wittenburg (Readlyn, Iowa), who ranks fourth in the NCAA in digs, led all players with 27 digs while pushing her school career mark to 1,969.
Drake extended its school record home match winning streak to 15 dating back to last season. The Bulldogs are 9-0 at home this fall which ranks third on the single-season home victory list.
Sophomore Emily Heffernen (Manchester, Iowa) and junior Mikayla Sims (Waterloo, Iowa) added 12 and 10 kills, respectively, for Drake. Both set or tied season highs.
The Bulldogs open their MVC slate at Evansville Friday at 7 p.m.