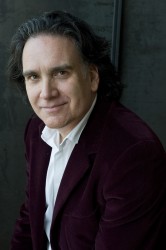 "Life Is What You Make It: A Concert & Conversation with Peter Buffett" will take place at Drake University on Wednesday, Sept. 15.
The event is held in conjunction with Planned Parenthood of the Heartland in celebration of the 50th anniversary of the group's annual book sale. It will begin at 6 p.m. on the Jordan Stage in Sheslow Auditorium in Old Main, 2507 University Ave.
Tickets cost $25 per person and are available online. To order tickets, scroll down to the RSVP section, then place an order.
Buffett, an Emmy Award-winning composer, philanthropist and author, is the son of billionaire investor Warren Buffett. He will discuss his life experiences and the importance of defining one's own path, regardless of wealth or background.
The presentation, which incorporates cello-accompanied piano and vocal performance and multimedia elements, is derived from Buffett's recently released book, "Life Is What You Make It." Buffett will sign copies of the book, which will be available for purchase for $25.
The book has been featured on "CBS Sunday Morning," "The Today Show" and National Public Radio's "Morning Edition." Former President Bill Clinton described it as a "wise and inspiring book that should be required reading for every young person seeking to find his or her place in the world."
After the performance, Buffett will pose for photos with audience members at a VIP reception held in Levitt Hall. Tickets to the reception are $250 per person.
For more information about the event, contact Planned Parenthood of the Heartland Communications Manager Dave Stone at 515-249-6084.