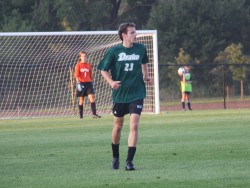 The Bulldogs made their debut in green uniforms during last year's "Greenest Game on Grass."
The men's soccer team will host its second annual "Greenest Game on Grass" at 7 p.m. Saturday, Sept. 18, when the Bulldogs battle Loyola at the Cownie Soccer Complex.
As part of the "Greenest Game" initiative, Trees Forever, a nonprofit group is to plant and care for trees and the environment by empowering people, building community and promoting stewardship, has donated six trees to be planted outside the field fence surrounding the "Coach Cownie" scoreboard.
For the second straight campaign, the Bulldogs will don green uniforms that will be auctioned off during the game, with proceeds benefiting the Center on Sustainable Communities.
The first 300 fans in attendance will receive a "Drake Soccer: Greenest Game on Grass" T-shirt. In addition, any fan who brings recyclable items, such as aluminum cans, glass bottles and newspaper, will get free admission to the showdown with the Ramblers.