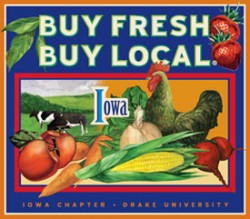 Drake University will host a Harvest Party in celebration of the 2010 growing season on
Sunday
, Sept. 19, featuring small plates of local food
that will bring the people together who grow, sell and eat locally grown
foods.The menu will include six small plates from salad to dessert — all featuring foods grown in the nine-county Greater Des Moines BFBL region.
Additional foods such as apples, cheese and wine will also be available to
sample.
The party, which will be held from 4-6 p.m., is sponsored by Drake and Iowa
Heartland Resource Conservation and Development as part of the Greater Des Moines Buy Fresh Buy Local project.
With a "Get to know your farmer and your food" theme, the event will be held
in Drake's Olmsted Center, 2875 University Ave. It is open to the public
with tickets required. Guests can make donations for BFBL and reserve
tickets at www.buyfreshdrake.org
More than 150 guests and supporters of BFBL will include the farmers and
member businesses that grow and sell local foods and the consumers who
pledged to buy and consume the produce.
"The Greater Des Moines Buy Fresh Buy Local Campaign started in 2004 as a
way to link those who grow, sell and eat locally grown foods. Our first-ever
Harvest Party will do just that," said Neil Hamilton, director of the Drake
University Agricultural Law Center.
"Bringing healthy, local food to central Iowa families is win-win for local
farmers and consumers," said Keith Sparks, president of Iowa Heartland
Resource Conservation and Development. "We're excited to be part of that
effort."
Buy Fresh Buy Local Harvest Party is an initiative of Drake University, Iowa
Heartland Resource Conservation and Development, the Downtown Farmers
Market, Campbell's Nutrition, the Iowa Food Cooperative, Environmental
Nutrition Solutions and the Kitchen Collage. The Harvest Party is hosted by
Sodexo Campus Dining Services at Drake.
For more information about Buy Fresh, Buy Local, contact Matt Russell at 515-689-8219 or bfbl@drake.edu.