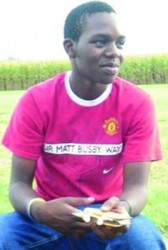 Cliffton Murove
A memorial for Cliffton Murove, a 2009 Drake graduate who was enrolled
in Drake's Master of Public Administration program, is scheduled for 7
p.m. Thursday, Sept. 16, in the ballroom of Morehouse Residence Hall,
2803 University Ave.
A 24-hour prayer vigil, scheduled by Intervarsity Christian
Fellowship, will begin at 8 p.m. tonight in the Morehouse ballroom, but
will not focus specifically on Cliffton as previously announced.
A native of Zimbabwe, Cliffton died Saturday, Sept. 11. He had
served as president of Drake's Students in Free Enterprise and was
active in the Drake International Students Association and the African
Students Association. These groups have joined forces with other
friends from the community to organize Thursday's memorial service and
to collect donations to defray funeral expenses and the cost associated
with sending Cliffton home to his family in Zimbabwe.
Donations to the Cliffton Murove Funeral Fund are being received by
any branch of Wells Fargo Bank or US Bank. Additional information for
donations and wire transfers is available at http://inlovingmemoryofcliff.bbnow.org/index.php.
There is also a Facebook memorial page devoted to Cliffton at http://ht.ly/2DY6T.