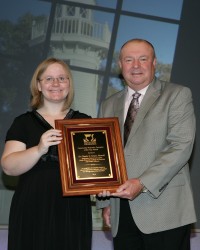 FOR IMMEDIATE RELEASE
Sept. 9, 2010
CONTACT: Tory Olson, 515-271-1834, tory.olson@drake.edu
DRAKE PHARMACY PRECEPTOR WINS AWARD FOR OUTSTANDING SERVICE
Chasity
D. Mease, who serves as a pharmacy preceptor for Drake students,
recently won the Community Pharmacy Preceptor of the Year Award from
the National Association of Chain Drug Stores Foundation. The honor was
presented at the NACDS's Pharmacy and Technology Conference earlier
this month.
The award recognizes Mease, clinical
coordinator for the Walgreens Patient Care Center and Drake Shared
Faculty, for making significant contributions to patient care through
the education of pharmacy students. She works with students in the
Advanced Pharmacy Practice Experience rotations in a community pharmacy
practice setting, as well as Introductory Pharmacy Practice Experiences
in diversity service learning, drug therapy problem solving, and
community wellness.
Mease will also receive a
$5,000 stipend of which $4,000 will be given to Drake's College of
Pharmacy and Health Sciences and $1,000 will be awarded as an
honorarium for her experiences that she has also donated to Drake.
"The
NACDS Foundation joins our benefactors in honoring these distinguished
community pharmacy leaders and educators for their outstanding
contributions," said Edith A. Rosato, RPh, IOM, president of the NACDS
Foundation. "We are pleased to recognize their achievements in
advancing pharmacy care on behalf of patients."