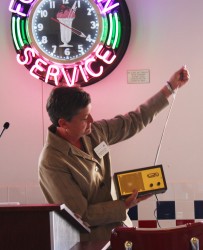 Maryfrances Evans, executive director of IRIS, displays a radio her organization provides to the visually-impaired at no cost.
Students in associate professor Lori Blachford's journalism class at Drake University aren't just going to analyze the news this year, they're also going to read it — aloud.
About 60 students in Blachford's "Media Responsibility Over Time" course will be reading and recording stories from a western-Iowa newspaper to be broadcast on the radio for people who are vision-impaired.
The students will be reading local news and columns from the Council Bluffs Daily Nonpareil five days a week, starting Tuesday, Sept. 7.
Their recordings, which will be made in a sound booth in the basement of Meredith Hall, will be broadcast at 5 and 11 p.m. Monday through Friday on the Iowa Radio Reading Information Source (IRIS), a free service that provides content from Iowa newspapers, magazines and other publications.
"This is a great service learning project," said Blachford, the Peggy Fisher and Larry Stelter Chair of Magazine Journalism. "Students will not only practice journalism skills, like voice work and news judgment, but also will experience first-hand the impact of local news. This service allows listeners to be active and informed members of their communities."
IRIS is a private nonprofit organization that serves 2,000 listeners in Iowa. Formed in 1972, they're Iowa's first and only radio reading service. The diverse listening population includes those who are blind, elderly and diabetic. Users are given a special pre-tuned radio receiver that broadcasts 24 hours a day to a frequency customized by region. They can also listen to streaming audio on the Internet and download recordings to various electronic devices.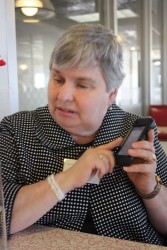 Jo Ann Slayton, a member of the IRIS Board of Directors, uses her iPhone to listen to radio reading services across the nation.
NEWS ON-THE-GO
Many people with visual impairments use text-to-speech programs that
read content from Web sites and news publications out loud. But IRIS,
like the other 140-or-so reading services broadcasting in the United
States, offers a more human touch.
"Services like IRIS are often one of the first alternatives that
someone who is losing his or her sight are exposed to," said Jo Ann
Slayton, a member of the IRIS Board of Directors. "For many people,
especially older people, who want to hear a live voice, this is their
first experience of knowing they're going to have to experience their
news in a new and different way."
Slayton, who is blind, downloads the service's recordings to her
iPhone so she can listen to them whenever she wants. Her favorite
publication is Cityview, an independent weekly magazine from Des Moines.
IRIS also gives her access to readings from The Des Moines Register,
Des Moines Business Record, The Iowa Source and The Iowan, and to a
national network that provides The New York Times, The Wall Street
Journal, Newsweek and National Geographic.
"I've been listening to IRIS for a long, long time. Probably since
the 80s," Slayton said. "But now I can download it and take it with me
so I'm not tied to my radio. It's amazing how the technology has
changed, and how much of this is available to us via computers and even
our phones."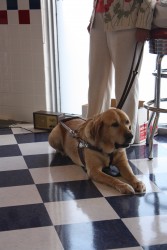 A guide dog lies beside an IRIS radio receiver.
DRAKE TAKES THE REINS
Before Drake's project, students from AIB College of Business in Des
Moines recorded readings from the Daily Nonpareil for several years.
Officials at AIB stopped recording in August after a change in staff.
"It's just a natural fork in the road for us," said IRIS Executive
Director Maryfrances Evans. "It's worked out perfectly. It was in our
five-year plan to transition the project to a journalism school."
Tawnya Bissell, a senior English writing major from Colfax, Iowa,
volunteered as project manager for the project, overseeing daily
operations.
She said she looks forward to learning public speaking and staff
management skills, and to gaining a better understanding of community
journalism.
"I'm excited to learn more about the project and the IRIS
organization," Bissell said Aug. 26. "We're all really looking forward
to getting started."