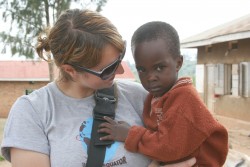 Juliann Van Liew interacts with a Ugandan child on a trip to Africa in 2009.
Though the Drake football team will make history next year when the Bulldogs play in the first-ever American football game in Africa, it is far from the first time Drake students have been involved with projects on the continent.
In fact, Drake has significant ties to many African nations and their people.
"There's a pretty remarkable collection of programs and experiences Drake offers in Africa," said Gretchen Olson, director of international programs and services at Drake.
Since 2007, Drake University has had an exchange program with the University of KwaZulu-Natal in Durban, South Africa. The partnership with the South African university has opened numerous possibilities for Drake students and faculty in the country, including the opportunity for pharmacy students to complete a pharmacy rotation in Durban during their final year.
The exchange program also allows Drake students to study abroad at the university and encourages South African students to spend a semester at Drake. Four students from the University of KwaZulu-Natal are now taking classes through Drake's School of Education. Approximately 40 other African students hailing from a dozen countries are studying at Drake this year, with the largest number of students coming from Ghana and Kenya.
In addition, Drake faculty members have taught a three-week seminar in Uganda every year since 2007. This year, a group of 28 students joined students from Makerere University Business School in Kampala, Uganda, to learn about sustainable development. This program will pave the way for new projects among Drake and Ugandan students and faculty.
"Four years of taking students to Uganda has really laid the groundwork for future collaboration," said Associate Professor of Finance Tom Root, who co-led last summer's Uganda course."¨
Drake has also offered other short-term programs in Africa. Earlier this summer, students travelled to Egypt for a three-week class that focused on contemporary Middle Eastern politics, culture and religion while others visited South Africa and studied the history of apartheid as revealed through literature. A study seminar focusing on public health issues in Botswana is planned for summer 2012.
In addition to these opportunities, Drake has numerous study abroad programs in African nations. Drake students have studied in countries such as Kenya, Tanzania, Ghana and Cameroon, to name a few.
Olson said students are often drawn to Africa because of the opportunity to volunteer while studying abroad.
She said, "It provides an entirely different perspective on the subjects they are studying and their place in the world."