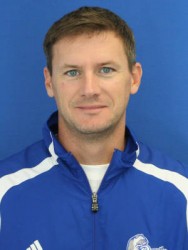 Paul Thomson, the head men's and women's coach at Brevard College in Brevard, N.C., the last five seasons, has been named Drake's head women's tennis coach."¨"¨
"Paul Thomson joins the Drake family with proven experience as a head coach, teacher and mentor for our student-athletes," said Drake associate athletics director Heather Weems, who chaired the search committee commented.
"He has demonstrated ability in program development, and has the drive and passion to advance our women's tennis program. We look forward to his leadership and vision in the years to come.""¨"¨ "My family and I are very grateful to Drake University for the opportunity to be a part of the Bulldog family," Thomson said. "Des Moines is a great community and the University has a wonderful tradition of academic and athletic excellence. I am excited about the potential I see here both in the University and in the women's tennis program.""¨"¨
This past season, both of Thomson's squads reached the semifinals of the South Atlantic Conference Tournament, with his women's unit registering a 14-6 mark, the Tornados' third consecutive winning season. "¨"¨
The men's and women's program grew by leaps and bounds under Thomson as the Tornados made the transition from NAIA to members of NCAA Division II and the SAC beginning during the 2008-09 academic year."¨"¨In five seasons directing the women's program, Thomson owned a 56-52 overall ledger.