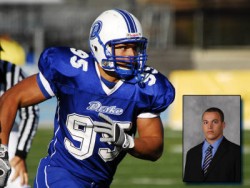 Drake defensive end Dain Taylor, a senior finance major from Highlands Ranch, Colo., continues to receive honors before the football season even begins.
The FCS Senior Scout Bowl Selection Committee recently named Taylor to the preseason All-American Football Team. The FCS Senior Scout Bowl is a post-season all-star game showcasing the talent of senior players from the NCAA FCS Division football level.
The bowl game, presented by the Collegiate Development Football League will be held in December at the Joseph St. Lawrence Sports Complex Stadium in Ramapo, N.Y.
Player selections for the showcase game begin with the selection of the FCS Senior Scout Bowl All-American team members. This preseason team recognizes the football achievements of senior players who are entering their final season on the FCS level.