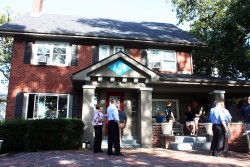 Students and alumni gather at the new home of Alpha Delta Pi.
Members of Drake's chapter of Alpha Delta Pi hosted a reception Monday to showcase the sorority's first home — a completely renovated house formerly occupied by the Drake chapter of Phi Delta Theta fraternity.
Approximately 25 Drake alumni who belonged to the fraternity devoted many hours early this summer to gutting the house in preparation for the renovation, which was handled by a professional contractor.
The renovated house sports a living room and dining room with gleaming hardwood floors, a kitchen furnished with new cupboards and appliances, remodeled bathrooms with new fixtures, as well as new carpet and paint throughout the residential areas.
"We put a lot of effort and a lot of money into the renovation," said Tim Coonan, a Drake graduate who directed the project for his fraternity. "We're proud of the way it turned out."
Members of Alpha Delta Pi — Drake's newest sorority — also pitched in to help with the project by doing some landscaping. They planted flowers in front of the house and added hanging plants to the front porch.
"It's been a wonderful bonding experience for our members to be part of the renovation process," said Rosalinda Mesa, vice president of the Drake chapter of Alpha Delta Pi. "We're glad to have a house, especially one that's a step up from anything we could have ever imagined."
Alpha Delta Pi is leasing the house in the 1200 block of 34th Street from the Phi Delta Theta Housing Corp. through May 2015. The sorority, which now has 50 members, was colonized at Drake in January 2009 and installed in April 2009.
"The rental arrangement is a winning combination for both fraternal organizations until the Phi Delts are able to re-colonize," said School of Education Dean Jan McMahill, former faculty adviser to the fraternity.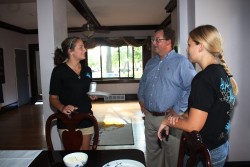 Tom Coonan chats with Alpha Delta Pi members Alex Brooks, left, and Rachel Yancey.
Coonan, who earned both his bachelor's degree and his law degree from Drake, agreed.
"We have a good partnership between Phi Delta Theta and Alpha Delta
Pi," he said during Monday's reception. "Our goal is to have a stronger
Greek system at Drake. This house has been in the Greek system since
1965 and it was only right to find another Greek organization to be
housed here."
The Drake chapter of Phi Delta Theta vacated the house last
December, following the University's decision to remove the chapter
from its list of registered student organizations for a period of four
years. The action came after a University investigation found the
chapter responsible for hazing and underage drinking.
The national Phi Delta Theta fraternity, which worked closely with
Drake on the investigation, suspended the charter of the Drake chapter
as a result of violations of the fraternity's risk management policies,
which cover alcohol and hazing.