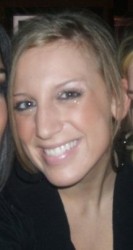 Andrea Zimmerman, JO'08, admits she took a leap of faith when she moved to New York City without a full-time job, but it's paid off big time. She quickly earned a spot as an editor on the staff of
Babble.com
, one of Time Magazine's
Top 50 Websites of 2010
.
Zimmerman started as an intern for the multifaceted parenting Web site, which tracks more than 5 million readers per month, and worked up the ranks from assistant editor to associate editor. She oversees the celebrity parenting channel, which offers weekly celebrity interviews and gossip from staff writers, bloggers and contributors.
"I've learned to see the warmth of celebrities," said Zimmerman, whose favorite interviews include Top Chef Tom Colicchio, country music star Martina McBride and fashion publicist Kelly Cutrone. "When they talk about their kids, their voices change; there's a warmth. Obviously, celebs have a protective layer up because they're in the public eye, but they still struggle with the same things all parents do: dealing with the kid who's up all night, feeling like they're not doing a good enough job, and balancing work and family."
Babble offers tips on products, fashion, travel, health and more. The staff includes about 5 editors, half a dozen designers, more than 40 bloggers and a team of freelancers. The staff of Time Magazine said Babble's slick "online magazine shows just how cool parenting can be, from pregnancy to the preteen years."
"So many parenting sites just have one specialty, whereas Babble understands moms have a plethora of needs, whether it's putting a healthy meal on the dinner table or figuring out the best crib to buy their newborn," Zimmerman said. "But most importantly, Babble tells the truth about parenting and that's what sets us apart."
Writing for a small publication staff has offered Zimmerman a huge amount of creative control and the opportunity to pursue many different types of projects. But she's found no matter what she's doing, she draws on a few core lessons from her Drake journalism courses and four-year career on Drake Magazine.
"The web, of course, is a different animal from print journalism, which is what I majored in," Zimmerman said. "That being said, the basics of journalism — recognizing a good story, strong writing, the ability to know your audience and, of course, solid journalistic ethics–are things that Drake taught me and things that hold true whether you're working on or offline.""
One rule that's likely to hold true throughout the tough economic times "" you have to take a chance in order to succeed. Zimmerman knew she was taking a chance when she moved to New York.
But there's more than luck to Zimmerman's success.
"When you work hard and you're surrounded by a great team of talented people, chances are you'll land on your feet." she said.