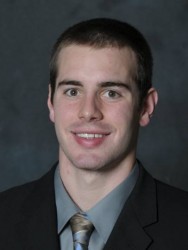 Adam Templeton
Drake graduates and former teammates Adam Templeton and Josh Young recently signed contracts to play for professional basketball teams outside of the United States.
Templeton, who was a two-year starter for the Bulldog basketball team, has signed a contract with SCH Wuerzburg, which competes in the Pro A Germany Basketball League.
"Templeton is a good shooter and smart player," said SCH Wuerzburg Head Coach Marcel Schroder. "He wants his first pro job here. Drake plays a similar system like us and that should help him. He is a real fighter."
The six-foot six-inch Templeton was named to the six-player Missouri Valley Conference Most Improved basketball team as voted on by the league's 10 beat writers in 2010.
As a Bulldog, he nearly doubled his scoring output last season, averaging 9.8 points per game. Templeton, of Rapid City, S.D., also surpassed his 2008-09 totals in three-point baskets and rebounding.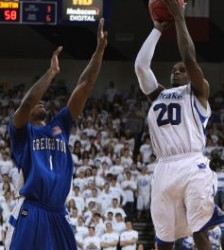 Young, the career-scoring leader in Drake basketball, signed a professional contract with
As De Sale
, winner of the 2010 Moroccan basketball championship.
"I'm happy about this opportunity," said Young, a six-foot one-inch
guard from Lawton, Okla. "I had a couple offers from different foreign
teams but I thought this worked out the best. They won the league
title."
Young, who will join the team Sept. 1., said that he will play point-guard for the team.
As the school's career leader in scoring, Young collected 1,789 points,
255 three-point baskets and 442 made free throws. He was one of 10
finalists for the Lowe's Senior Class Award in college basketball.
During the 2009-10 season, Young averaged 14.4 points, 3.9 rebounds and
2.7 assists. He closed out his college career by scoring 20 or more
points in six of his last 12 games.