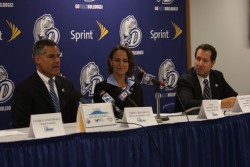 Chris Creighton, Sandy Hatfield Clubb and David Maxwell announce the game at a news conference.
The Drake University football team has a date with history when it will travel to the country of Tanzania in Africa to play the first American football game ever on the continent.
Drake will play an all-star team from Mexico, the CONADEIP All-Stars, representing the CONADEIP Conference, in the inaugural Global Kilimanjaro Bowl on May 21, 2011. The game will be held in Moshi, Tanzania, under the shadows of Mount Kilimanjaro.
The trip will begin on May 17 and — following two practices, a football clinic for local youth and a safari — the two teams will meet on the field May 21.
After the historic game, players from both Drake and the CONADEIP All-Stars will be doing community service projects in and around Moshi. The primary project will be working at the Kitaa Hope Orphanage in Moshi with children between 4 and 12 years old, while also constructing an addition to the orphanage.
During the final phase of the trip, players and coaches from both teams plan to climb the imposing 19,340-foot Mount Kilimanjaro — the tallest mountain in Africa. The teams will ascend Mount Kilimanjaro by different routes, culminating their climbs by meeting at the summit and hoisting their respective university and national flags in a moment sure to be captured by media worldwide and celebrated by everyone connected with these teams and their universities.

"I am overwhelmed with excitement as this longtime vision is now becoming a reality," said Drake head football coach Chris Creighton.
"This trip allows for us to bring the game we love to a place and to a people who have never experienced it. It also provides a unique opportunity to serve those who are far less fortunate than we are and to hopefully make a positive difference. Finally, climbing Mount Kilimanjaro as a team will be one of the greatest challenges we will ever face.
"The Drake football program is about more than winning games," he added. "Our program's vision is to make playing football at Drake one of the most incredible experiences of our lives. This trip exemplifies who we are and what we are about. We want to do something special with our lives."
Global Football, a Texas-based football events organization, is coordinating the trip. Patrick Steenberge, president of Global Football, has produced football events in 18 different nations since 1996, working with groups like the NFL, Notre Dame, Penn State, Super Bowl Host Committees, the American Football Coaches Association, Pop Warner, USA Football and national American football federations around the globe.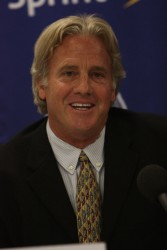 Patrick Steenberge, president of Global Football
"This is a truly groundbreaking and unique overseas visit that will spread the appeal of American football onto the African continent," Steenberge said. "These two teams represent high-quality private universities from the United States and Mexico. But this will be much more than a football game, which is noteworthy enough, as the teams will undertake a number of memorable and worthy projects."
"Participation in the Global Kilimanjaro Bowl and the accompanying activities in Tanzania are a perfect coming together of Drake University's mission and values," said Drake Athletic Director Sandy Hatfield Clubb. "We strive to provide opportunities that will facilitate leadership learning and prepare student-athletes to be responsible global citizens and to become champions of positive change.
"There could be no better partner and opponent than the CONADEIP All-Stars from Mexico with their shared commitment to excellence in academics and athletics."
Drake's Mexican opposition will be selected from the CONADEIP Conference that will start its inaugural football season this fall, having restructured to provide a highly competitive schedule for the long-dominant private universities in Mexico, which previously competed under the established ONEFA organization.
"It is a great pleasure for CONADEIP to have the chance to develop this project with Drake University," said Eduardo Martinez de la Vega, CONADEIP president and athletics and health promotion director at Universidad Iberoamericana. "We are very proud to represent the very best of academic and sport colleges in Mexico and now we will be able to offer something beyond sports, and that is the chance to have a unique life experience.



"To travel with students from a neighboring country, to visit a completely different continent for us, to experience the contact with people who live in such different conditions and to enjoy a visit to Kilimanjaro will be something for our student athletes to remember forever. We are very excited to be a part of it and look forward to more opportunities like this one. We are sure that this is just the beginning."
The orphanage service project will be coordinated through the efforts of Iowa Resource for International Service (IRIS), an Iowa-based nonprofit organization based in Ames, Iowa. Its mission is to promote international understanding, diversity and peace by connecting Iowans to communities worldwide. Since 2007, IRIS has coordinated the exchange of more than 70 high school students from Tanzania through the U.S. State Department's Kennedy-Lugar Youth Exchange and Study Program.
"Through the Global Kilimanjaro Bowl, representatives from three countries across the globe will work side-by-side to instill the volunteer spirit in the young people of Tanzania," said Del Christensen, executive director of IRIS. "The Drake team and their Mexican collegiate counterparts will be working with IRIS alumni, students and other young Tanzanians on a variety of volunteer projects. Through three days of hands-on work, players will collaborate with the young people of Tanzania to leave a lasting legacy not only on the ground, but also in the minds of the people of Moshi."
H.E. Ombeni Sefue, Tanzania's former ambassador to the U.S. and Mexico, who was recently appointed Tanzania's permanent representative to the United Nations, said: "I am pleased to hear of Drake University's trip to Tanzania, where you will play the first American football game on the continent of Africa. I am indeed honored to welcome you!"
Family and fan travel packages will be available through Anthony Travel beginning on Sept. 15. They will include round-trip airfare, accommodations, local tours, service projects, a once-in-a-lifetime safari, game admission and more.
Drake fans can also support the team on their historic trip by going to www.godrakebulldogs.com to donate funds to offset individual costs of travel.
For further information, contact Anita Freeman with Anthony Travel at 866-913-7169 or anita.freeman@anthonytravel.com.
The Global Kilimanjaro Bowl Schedule appears below:

May 17 — Teams depart USA and Mexico
May 18 — Arrive Kilimanjaro Airport, transfer to Moshi
May 19-20 — Practice, Youth Clinic, Safari
May 21 — Global Kilimanjaro Bowl, Drake Bulldogs vs. CONADEIP Mexico
May 22-24 — Youth orphanage service project
May 25-30 — Climb Mount Kilimanjaro
May 31 — Flight home