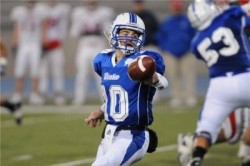 Drake has been picked to finish fourth in the Pioneer Football League (PFL) preseason coaches' poll.
Fourteen starters from last season's team will return to the Bulldogs. Last year, the team posted an 8-3 overall record, including a 6-2 second-place league finish.
Leading Drake's defensive unit will be 2009 first-team All-PFL selection Dain Taylor, a senior finance major from Highlands Ranch, Colo., and a 2010 preseason Sports Network All-America selection. Last season, Taylor led the team with 19.5 tackles for loss, including 10.5 quarterback sacks.
The offense will be led by fullback Steve Platek and quarterback Michael Piatkowski. Platek, a two-time first-team All-PFL selection, is a senior marketing and management major from Arlington Heights, Ill. Piatkowski, a junior marketing major from Wheaton, Ill., passed 2,139 yards and 14 touchdowns last season.
ҬDrake opened the season at home in a game against Lehigh University in Bethlehem, Penn., on Sept. 4.