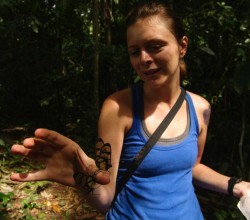 Ashley Anne Wick, AS'06, took her passion for the environment to the Peruvian Amazon rainforest to study insects as part of the Fauna Forever Tambopata (FFT) project.
The rainforest holds the highest biodiversity level of any area on the planet. It is home to thousands of species of plants and butterflies and hundreds of species of birds and mammals. It is also a refuge for endangered species, including the giant river otter, harpy eagle, bush dog, black caiman and jaguar.
Wick, who moved to Peru in July 2009, is the project insect team coordinator. She focuses on the impact of human development and encroachment on forest organisms.
"Right now, I am working with FFT on a project investigating the use of butterflies as indicator species," said Wick, who uses a variety of luring tactics, including nets and traps baited with fruit and other sweet, fragrant substances, to collect insect samples.
"The idea for the project emerged when I was talking with my longtime mentor, Dr. Keith Summerville, who suggested that I read an article that pointed to a particular family of butterflies as potential ecological indicators."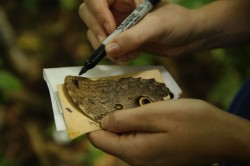 Summerville, associate professor of environmental science, praised Wick's research and dedication to fieldwork.
"Ashley has proven herself to be a highly gifted field ecologist with a
great sense for species natural history, taxonomy and community
ecology," said Summerville, who also serves as associate dean. "She is a
resilient worker, and she has the potential to make a lasting
impression in the field of tropical conservation biology."
FFT monitors numerous sites to provide research and natural history
training for local student volunteers. It also gives recommendations to
reduce human impact on wildlife and government organizations responsible
for species protection.
Wick credits Drake with preparing her for her experience in Peru. "My
work in Peru would not have been possible without the invaluable
guidance of the professors in Drake's environmental science program,"
she said.
"I was able to benefit from the intimacy of the program and the focus on
pragmatic class work that allowed me to tailor my experience to a
future in conservation and research."
In January, Wick plans to attend graduate school at the University of
Alberta in Edmonton, Canada, in pursuit of a master's degree in
renewable resources. Her research will center on developing conservation
and monitoring plans for the Mormon metalmark, an endangered butterfly
native to Saskatchewan.