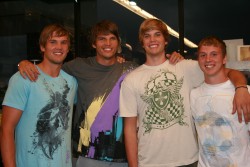 Brothers Klayton, Kyle and Kirk Korver pose in Seer T-shirts with a family friend.
A clothing line launched by former Drake basketball star Klayton Korver, BS'08, and his brother Kyle, a guard for the Chicago Bulls, is making a difference in cities across the country.
Sales from Seer Clothing, a T-shirt company founded last year, help finance the charity work done by the Kyle Korver Foundation. Kyle started the foundation when he was a member of the Philadelphia 76ers. T-shirts are available for purchase at www.seerclothing.com.
"The idea for Seer Clothing came a while back," said Klayton, who oversees the day-to-day operations of the clothing company and works as director of operations for the Kyle Korver Foundation. "Kyle was trying to find a way to be able to continue his foundation long after he is done playing.
"We do fundraisers, but we were hoping for something more stable with the potential for growth. We started selling shirts in December and have been fairly successful for a start-up clothing company. We have been blessed to have met a lot of people who want to help out."
Based on the needs of the community, the charity performs outreach in every city where Kyle has played: Omaha (Creighton University), Philadelphia and Salt Lake City (Utah Jazz). Its work will likely be expanded to include the Chicago area now that Kyle has signed with the Bulls.
The foundation assists the Boys and Girls Club of Omaha and performs inner-city ministry with after school programs and summer camps in Philadelphia. It also funds a non-profit construction group that assists families with children with disabilities, the elderly and others in need in Utah.
Klayton, originally from Pella, Iowa, was an integral member of the 2007-08 basketball team that advanced to the first round of NCAA Tournament. He is one of two players in Drake history to score more than 1,000 points and make more than 200 three-point baskets.
He joined his brother's foundation in the fall of 2009 after lingering knee injuries prevented him from continuing his basketball career overseas.
"I have always looked up to my older brother for many reasons," Klayton said. "When I had the chance to help him start up a new company, and also to help run the foundation, I jumped at the chance. It is a lot of fun to be able to give back in a variety of ways."