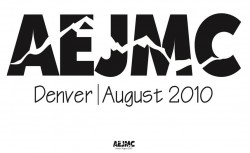 Drake's journalism faculty recently shared their expertise in new media at the Association for Education in Journalism and Mass Communication's (AEJMC) 94th annual conference.
The four-day event was held in Denver and featured workshops and teaching panels on the latest research and public service issues related to the journalism profession. More than 1,600 journalism and mass communication educators attended the conference.
Lori Blachford, the Peggy Fisher and Larry Stelter chair of magazine journalism, said that the conference provided a forum for discussion on how educators can prepare their students to utilize emerging media tools and techniques — skills that Drake's faculty have already integrated into the program's curriculum.
"One clear theme throughout the week was the need to incorporate more online reporting, social media and mobile technologies into journalism courses," Blachford said. "That has been a focus for us at Drake for the last few years, so we were invited to share our ideas, and we came away with a few new strategies as well."
Drake faculty members and the panels on which they presented were:

* Blachford, "The Multiplatform Magazine"

* Jeffrey Inman, assistant professor of journalism, "Bringing in the Audience: Social Media and New Connections in magazinesrocketfuel68 and the News Classroom"

* Patricia Prijatel, retired E.T. Meredith distinguished professor of journalism, "Strategies for Capstone Success," which was moderated by Blachford

* Jill Van Wyke, assistant professor of journalism, "Effective Approaches to Integrating Multimedia in Reporting and Writing Classes"
Inman and Van Wyke also served on the "Magazine Marathon: 10 Quick Teaching Tips" panel, which presented educators with guidelines for magazine instruction.
"For me, this was an invaluable experience to not only listen and interact with colleagues from around the country, but to also represent Drake and show the journalism education community what a great and forward-thinking program we have here," Inman said.
In addition to her presentations, Van Wyke served as the AEJMC Magazine Division teaching chair for 2009-10, helping organize several other conference panels.
"In my presentation, I discussed how easily the teaching of technical skills and software can eat up the crux of a course," Van Wyke said. "I offered suggestions to teachers to place more responsibility on the students to learn skills such as video and audio editing, Photoshop and InDesign outside of class. That frees up time to teach what's most important: reporting, writing and ethics."
In addition, Van Wyke received a third-place "Teaching News Terrifically" award in recognition for her strategies to teach students how to liveblog news events. Drake professors also accepted awards on behalf of Drake Magazine online, Think and 515. Read more about the awards online.
"It is always great to be from the school that wins so many awards for student work," Prijatel said. "The convention serves as a reminder of what we're doing right at Drake and a guide for how to be even better."


Preparing students for a fast-paced profession
Blachford said that the convention is a valuable experience for journalism educators because it offers them the opportunity to look at the industry through new eyes and make connections with colleagues from across the country.
"We not only learned from other journalism professors, but also from a stellar lineup of journalism professionals, including National Public Radio foreign correspondent Anne Garrels and editors from Food Network magazine, Elevation Outdoors, SKI magazine and Denver's city magazine 5280," Blachford said.
She added that Drake's journalism program is equipping students with the necessary abilities and knowledge to help them become competitive members of an increasingly cutting-edge profession.
"The publication representatives talked about the kinds of skills they are looking for in employees," she said. "Creativity and flexibility rank highest on their lists. The day of someone seeing themselves as just a writer are over — journalism students need a much broader skill set."