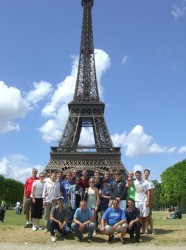 The band poses for a photo in front of the Eiffel Tower in Paris, France.
On a two-week European tour that included stops in four different countries and performances at international jazz festivals and local venues, there was something for every member of Drake's Jazz Ensemble One to take away.
Read more about the band's adventures in the Netherlands, Belgium, France and England and their performances at the North Sea Jazz Festival and the Wigan International Jazz Festival online.
A blog maintained by the students can also be accessed online.
The ensemble is directed by Andrew Classen, the Fred and Patty Turner professor of jazz studies.
"On Drake Jazz European tours, the band becomes just like a touring professional band," Classen said. "There are no rehearsals, only gigs. The band coalesces, and individuals become more confident and more daring in their playing. The audiences are incredible, which just fuels the fire in the band."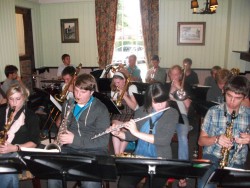 The band performs a tune at a club in England.
Mike Ramirez, a junior business major and music minor from Tucson, Ariz., served as tour manager, and his responsibilities included communicating with travel companies, answering students' questions and coordinating passports, documentation, tickets and luggage.
"It was nice to bond with other members of the band and get to know everyone a little bit better," said Ramirez, who will receive academic credit from Drake for his work. "I thought that the band sounded great and that the audiences really appreciated the concerts."
"We were in Europe for some pretty intense events," said Ramirez, referencing Bastille Day in France and the excitement in the Netherlands when the Dutch soccer team played in the FIFA World Cup Championship in South Africa. "The trip was a success and I deserve an A plus!"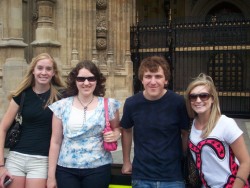 DeVos and fellow band members stand outside the National Portrait Gallery in London.
Melody DeVos of Osceola, Iowa, said that the trip and her time at Drake have made her more appreciative of other cultures.
"I am so thankful to have had the opportunity to see more of the world and learn about other countries," said DeVos, who graduated in May with a degree in trumpet performance and music composition. "I've made several friends from other countries at Drake that I may have never met otherwise. I'm thankful for the opportunities that Drake has provided me to get to know and appreciate classmates and professors from around the world and the cultures they come from."
She added that learning about the historical significance of different sites in Europe was a trip highlight.
"My favorite part of the trip was probably Brugge, Belgium," DeVos said. "The town has all of the rich history and tradition of an old European city combined with the charm of a small town. I really enjoyed visiting the beautiful cathedral there that houses a Michelangelo sculpture, and nothing beats eating a Belgian waffle in Belgium!"