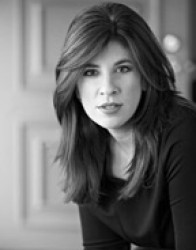 An interview with Assistant Professor of Music
Ann Cravero
, who teaches voice and directs opera at Drake, was recently featured in dsm Magazine.
The Q & A focused on Cravero's musical background, career and accomplishments, including her first-place prize at the 2008 Barry Alexander International Vocal Competition. As a result, Cravero was invited to perform at Carnegie Hall in New York City.
"There was a lot of adrenaline, but I felt I put it to good use!" she said of the experience. "I think it's every performer's dream to be able to sing in such a big venue. In 2009, I was invited back to sing at a gala for the same organization. That time, I was more comfortable with the space and the hall."
For Drake Opera Theatre, Cravero has directed "Die Fledermaus," "The Pirates of Penzance" and "The Tender Land." She has also directed shows for the City Opera Company of the Quad Cities and produced and directed a one-act opera at the University of Iowa.
When asked how she stimulates interest in opera when there are so many competing forms of entertainment, Cravero said that she encourages students to view opera as an art form that incorporates acting, dancing and comedy.
"I have to make what seems a foreign art form become as exciting as going to the movies," she said. "We do all of our productions at Drake in English to make them more accessible."



Cravero frequently performs new music and has debuted works in the United States and Italy. She has appeared on stage as Orlofsky in "Die Fledermaus," Hansel in "Hansel and Gretel" and La Mere d'Antonia in "Les Contes D'Hoffman."
She received her bachelor's degree from Bradley University and her master's degree and doctorate from the University of Iowa.