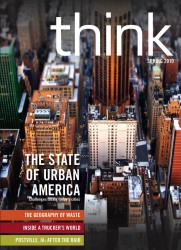 Think
, a newsmagazine produced by Drake University journalism students, recently was awarded highest honors by the Association for Education of Journalism and Mass Communication.
The team of 20 news/internet and magazine majors earned first place in general excellence, second place in editorial and third place in design in the AEJMC Student Magazine Contest.
This marks the third consecutive year that Think has received the top prize in general excellence. Drake Magazine online, 515 Magazine and Drake student Lucas McMillan also received honors from AEJMC for best online magazine, design and consumer magazine first-person article, respectively.
Jill Van Wyke, assistant professor of journalism and Think's adviser, gave a nod to the students' work in producing the magazine.
"The award is a testament, first and foremost, to our students' talent and passion," she said. "It's the crowning achievement of their years at Drake, and they pour their heart and soul into the magazine."
Think editor-in-chief Matt McGuire of Monmouth, Ill., said he was very proud of the AEJMC award and noted the repeated recognition of the students' work.
"It's pretty great that this is the third year in a row that Think has won the award," said McGuire, a magazines major. "It's nice to help make that a tradition."
McGuire said that Think's success was due to the variety of students on the magazine staff. The capstone project brings design students, news/internet and magazine students together to create a harmony of editorial and graphic content.
Judges' comments provided by AEJMC shed light on why Think was selected for the general excellence award. The judges highlighted the magazine's design and stories, including "particularly strong use of illustrations" and "concise, focused and engagingly written" articles. One judge wrote, "Extra points for high "˜degree of difficulty.'"
Van Wyke highlighted the Drake and Des Moines communities' involvement in Think.
"The award also reflects the outstanding support we receive from alumni, local professionals, Meredith Corporation and Drake faculty–both in and out of the journalism school," she said. "We are truly fortunate to have so many people invested in our students' success."