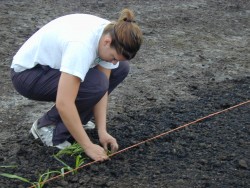 Emily Sibigtroth, a senior Drake University biology major, is taking her
education to the field to help improve prairie restoration efforts in
Eddyville, Iowa.
Sibigtroth, of Durand, Ill., is conducting field research at Wapello
County Conservation Board's site, about 70 miles southeast of Des
Moines.
She is helping the board establish their own seed production plots,
which will help them better conduct prairie restoration projects. Seeds
are the biggest expense in prairie restoration.
"The purpose of this research is to see what impact, if any, compost
has on seedling development," Sibigtroth said. "We want to study if
there are negative or positive benefits associated with the addition of
compost to the seedlings when they were transplanted."
Transplanting the young plants is done to establish single species
production plots, which are areas in which rows of plants of the same
species grow and will eventually mature and produce seeds. Later, those
seeds will be used to plant restoration projects elsewhere in the
county.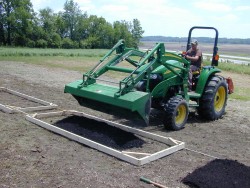 "Compost, which is partially decomposed organic matter, could help
young transplants establish by providing nutrients and/or retaining
moisture," said Tom Rosburg, professor of biology, who serves as the
faculty adviser.
"Likewise, seed production and quality in older established plants could be increased with compost."
In addition, by growing its own seed, Wapello County will be able to
seed more acres or use prairie species that are either expensive or
difficult to obtain commercially.
The project, which began in June, was spearheaded by Rebecca Nott, a
2006 Drake graduate who serves as environmental compliance manager at Chamness Technology,
which provides sustainable sound waste management solutions. Chamness,
located in Blairsburg, Iowa, has provided compost and funding for the
project, which will continue through the fall semester.
"Chamness composts a variety of industrial byproducts, yard waste
and food," Knott said. "Our goal is to keep these wastes out of
landfills and utilize them to produce compost which can be used for
improving soil fertility and tilth."
Sibigtroth is visiting the site every few weeks to check the plants and control weed growth.
Each visit, she monitors four different plots of plantings that have
been either tilled or not tilled with either one or two inches of
compost.
Later this summer, Sibigtroth will analyze her data and produce a
paper and a presentation. Because some results may not be seen until
after this year's growing season, a few more students will join the
initiative to work on the project through 2011.