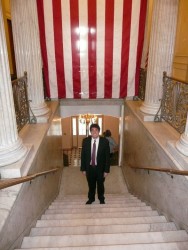 Vasilogambros in the nation's Capitol.
Drake senior politics and journalism student Matt Vasilogambros of Arlington Heights, Ill., is spending his summer in Washington, D.C., as an intern for Iowa Congressman Leonard Boswell.
"D.C. is incredible," said Vasilogambros, who began his internship in May. "I've spent most of my college career writing and covering politics, and it's been great seeing the actual political process in action."
As an intern, Vasilogambros writes press releases, op-ed columns, e-newsletters, letters to House leadership and speeches on behalf of Congressman Boswell. He has also had the opportunity to represent Boswell's office at Congressional hearings and press conferences.

Vasilogambros is also serving as a contributing blogger for The Huffington Post.
As a blogger, Vasilogambros recently wrote an article on "What Journalism Students Can Learn from Shirley Sherrod, JournoList," which describes the standards of the profession and how reporters should pursue news stories.
The article details the three elements of journalistic integrity —
accuracy, confirmed sources and the absence of bias — fundamentals
that Vasilogambros said were stressed in his journalism classes at
Drake.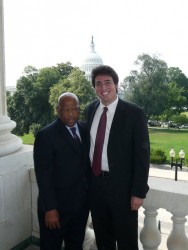 Vasilogambros and Georgia Congressman John Lewis.
He also said that these skills have helped to prepare him not only for his current work but also for a career in reporting.
"I'm lucky to go to a school with both a strong political program and a strong journalism program," he said. "I'm in contact with two Drake journalism alumni who work here in D.C., and they've told me that the writing experience they got at Drake is invaluable. Learning about political theory, having practical knowledge of article structure and knowing what people want to read also helps."
Vasilogambros credits his tenure as last year's editor-in-chief of Drake's Times-Delphic with providing him with a mentor and teaching him the skills necessary to pursue his journalistic aspirations.
"Jill Van Wyke is my mentor at school," Vasilogambros said. "When I was editor of the Times-Delphic, she helped me day in and day out. This past spring, I went to talk to her about internships and she was the one who encouraged me to go to Washington to see if political journalism is really what I want to do."
"Matt epitomizes what can happen when an ambitious, passionate student seizes the rich opportunities available to Drake students, both on- and off-campus," said Van Wyke, assistant professor of journalism at Drake. "His rich political and journalistic experience while still in college will make him a versatile and skilled professional. He's a fine example of how Drake is preparing students to be leaders in this shifting digital media landscape."
Vasilogambros also praised adjunct professor Richard Tapscott for providing him with an inspiring example.
"Professor Tapscott used to write for the Washington Post," Vasilogambros said. "My goal is to write for either the Washington Post or for Politico, and his example makes me think that that might be possible."