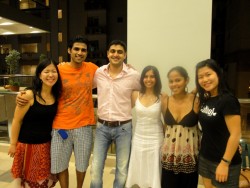 Left to right: Mari and Pratap Kale, Shamik and Ashwini Shah, Bhavna Shivayogimath and Florencia Eka
Six Drake graduates living in Singapore used social networking not only to keep in contact during their life after Drake, but also to renew their college friendships once again.
Mari Shima Kale, AS'03, and her husband Pratap Kale, AS'03, moved to Singapore in January when Pratap, who holds a bachelor's degree in international relations from Drake, was transferred through his job at EMC Corp. to focus on an Asian market.
"Singapore seemed the best fit since it is considered to be 'Asia 101,'" said Mari, who graduated from Drake with a bachelor's degree in English.
"Here it is very easy to get into Asian culture — people speak English, everything is easily accessible and public transportation is fantastic! Plus, we are now closer to both of our families in India and Japan."
Upon getting settled in Singapore, the Kales found they were among these Bulldogs in Southeast Asia:

Shamik Shah, of India, who earned a bachelor's degree in information systems in 2002
Ashwini Deshpande Shah, of India, who earned a master's degree in business administration and a Doctor of Pharmacy in 2004
Bhavna Shivayogimath, of India, who earned bachelor's degrees in creative advertising and international business in 2005
Florencia Eka, of Indonesia, who holds a bachelor's degree in advertising management in 2005
"We've known each other since we were all international students at Drake, even though we are all from different graduating classes," Kale said. "We kept in touch with each other over Facebook mainly, and we found each other here in Singapore."
The group of alumni originally became friends at Drake through the International Students Association, but they drifted some after graduation as they settled in new places, continued their education and started new careers.
"I didn't know that they were all in Singapore at all!" said Kale, who teaches in Singapore at an international kindergarten. "Only Florencia was my Facebook contact, and we didn't communicate much before I moved here. Then, I found out there were three other Drake alumni in Singapore, and the circle started to grow."
"I get in touch with them when I want to ask some questions about Singapore or just to have dinner or go to parties. It's a really great place to start your social network when you know someone in a new place."