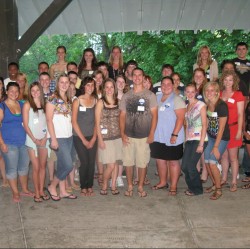 First-year students, their families and alumni had the opportunity to
meet and mingle during First-Year Send Off events in Des Moines, Kansas
City and Minneapolis recently.
Hosted by area alumni, the send-off events helped new Drake students
to get know each other, as well as Drake graduates, in a casual setting
before heading to campus in the fall. At the gatherings, those in
attendance played icebreaker games and chatted while enjoying
refreshments. Students also had the opportunity to win prizes.
"Minnesotans are a great bunch. We love to celebrate our connection
to Drake and welcome new members to the Drake family," said Chris
Lawrence JO'92, who hosted the Twin Cities Send Off Event with his wife,
Meghan. "The first-year send off was a great opportunity to share in
the excitement""and lessen a bit of the anxiety""of all the great
experiences that lie ahead for this talented group of students and their
families."
Students and alumni still have the chance to attend a send-off event
this year. First-Year Student Send Offs will be held in the Chicago
area on Thursday, Aug. 5 and Sunday, Aug. 8 and in the Quad Cities on
Sunday, Aug. 8. Learn more about these upcoming events online.