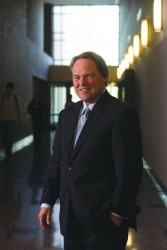 Neil Hamilton
A magazine feature story this month dubbed Neil Hamilton, director of the Agricultural Law Center at Drake University, one of the preeminent experts on sustainable agriculture.
The article, written by Ken Fuson, appeared in the August-October issue of dsm Magazine. Fuson went on to say Hamilton "has never had more influence" than he has today.
Hamilton, 56, provides legal advocacy on behalf of small-time farmers. He equates access to local, natural, small-farm crops with democracy in action. He's led Drake's agricultural law center since 1983, and serves as the Dwight D. Opperman chair of law and professor of law.
In a 2,200-word feature profile, Fuson writes about Hamilton in the framework of his influence in the spheres of media, politics and corporations. Hamilton has advised U.S. President Barack Obama and worked for U.S. Agriculture Secretary and former Iowa Gov. Tom Vilsack.
Fuson traces Hamilton's roots, from a 200-acre plot of land in Mercer Township, Iowa, to the political realm, to the University of Arkansas and finally to Drake Law School.
In the article, Neil Harl, a retired professor of economics at Iowa State University and one of Hamilton's mentors, says Hamilton has become "the world's expert in the problems related to small-farm agriculture and a different system of moving food to the supermarket and to the consumer. And that's a growing area."
Hamilton may be a self-proclaimed "foot soldier" in the effort to revitalize rural America, but his teachings lead students beyond that movement to diverse career pursuits.
Fuson wrote: "It's evidence of Hamilton's integrity as a teacher that so many graduates of Drake's Agricultural Law Center have moved on to represent some of the planet's largest and most powerful agricultural concerns. "˜I certainly don't think I've failed if (students) go away and work for Monsanto,' says Hamilton. "˜I'm glad they got a job.'"
Read the full profile at the dsm Magazine website.