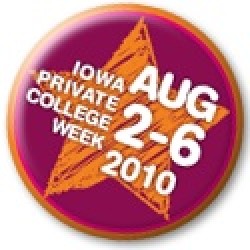 Drake University invites prospective students and their families to
visit campus and learn more about the University and the college search
process during the 12th annual Iowa Private College Week, Aug. 2-6.
Tours and information sessions are held twice daily at each of the
participating private colleges and universities — beginning at 9 a.m.
and 1:30 p.m. This allows families to visit two colleges in one day, or
several during the week.
If a student visits three or more colleges and collects a passport
stamp from each location, he or she will be eligible for a drawing for
one of 58 bookstore vouchers worth $500 each.
In addition, each participating college and university will award
two $500 bookstore vouchers to students who visit during IPCW, collect
the required three or more passport stamps and eventually enroll at the
school.
To schedule a Drake visit during IPCW, register online or call 1-800-443-7253, ext. 3181.
Drake's sessions will begin in Old Main and will feature:

Academic meetings with faculty
An overview of Drake's application process and financial aid
A panel discussion with current students
A campus tour