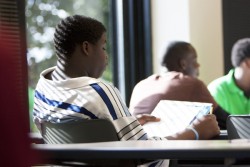 Drake recently provided a much-needed learning space for local educators, parents and their children during a summer camp designed to help parents access the tools, knowledge and resources necessary to help their children build academic skills.
"You walk into the room and the energy that you feel from the students and parents is remarkable," said Paulette Wiley, director of the Homework Empowerment Camp.
"The students are excited because the parents are there and interacting with them and the parents are excited because they get to participate in something positive and rewarding with their children. The experience is absolutely invaluable."
Wiley, whose grandchildren participated in the camp, said that the opportunity to conduct the camp in a collegiate setting helps impart the importance of education.
"We love Drake!" she said. "We were actually in Meredith Hall performing academic studies. It's wonderful to have access to Drake's campus."
David Bradley of Des Moines agreed with Wiley, praising Drake for providing a positive educational environment in which to conduct the camp.
"I think Meredith Hall is a great platform to see what the college atmosphere is like," Bradley said. "It's not elementary or middle school; it's a different platform of higher education. The community has a need, and Drake welcomes us."
Initiated in 2008, the camp is aimed at African-American parents and their school-aged children. Parents are informed about computer tutoring programs and the ways that they can support their child's success in school at home.
"I enjoyed the camp — I thought it was very valuable, educational and the kids loved it," Bradley said. "The day after school ended for summer vacation, my kids insisted that I contact Paulette because they wanted to participate in the program."
Bradley credited the instructors at the camp for giving children the one-on-one time they require to learn different techniques and methods for homework completion and problem solving.
"My 6-year-old's reading and math skills have progressed immensely, thanks to skills he learned from this program," Bradley said. "I commend the program. As long as the program exists, I will participate."
Lin Newsome and his 14-year-old son also participated in the camp.
"The program helped me learn how to advocate for my child and help him with his study needs," Newsome said. "My son learned better study skills, and his reading comprehension skills have improved — he's also picking up his reading speed."
Education Brain Trust is the organization spearheading the project of homework empowerment for parents and the program's primary sponsor is Community Partnerships for Protecting Children, a subsidiary of Iowa Department of Human Services.
Other partners in the Homework Empowerment Camp program include:

Des Moines Public Schools
John R. Grubb Community YMCA
Ask Family Resource Center
Des Moines Area Community College