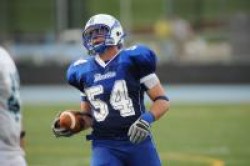 Ben Morrison
Two Drake football team members were recently honored for their outstanding performances on and off the field.
Linebacker Ben Morrison has been named a finalist for the Allstate American Football Coaches Association (AFCA) Good Works Team and defensive end Dain Taylor has been named to The Sports Network Preseason All-America third team.
Morrison: a commitment to community service
Morrison was one of 112 student-athletes nominated nationwide for placement on the Good Works Team, a platform that is widely recognized as the most prestigious community service award in college football. Finalists are selected based on their positive contributions to their community and campus.
Morrison, a senior secondary education major from Long Grove, Ill., was named the 2009 Drake community services captain. He has volunteered with the Special Olympics at Drake, the Sunrise Assisted Living Retirement Home, Prince of Peace YMCA Youth Camps and Willow Creek Community Food Pantry.
Within the Des Moines community, Morrison has organized service events for the Boys and Girls Club, Blank Children's Hospital and Ronald McDonald House. He also has participated in the Bulldog Reading Program at Des Moines area elementary and middle schools.
"Ben is a natural leader," said Drake Head Football Coach Chris Creighton. "He is special because his heart is in the right place. I believe that there is a difference between serving because it might look good on a resume and serving because you genuinely care and want to help other people. Ben is the latter."
Entering his third year as a starter, Morrison earned honorable mention All-Pioneer Football League honors last year.
Taylor recognized for superior athleticism and bright future
Taylor, a senior finance major from Highlands Ranch, Colo., was selected to the Consensus Draft Services Preseason Football College Subdivision All-American second team.
The team is made up of players who the Consensus Draft Services staff predicts will be among the top players in the nation. Players have a chance to be selected in the National Football League Draft in April 2011.
A co-captain, Taylor earned first-team all-league honors last year after collecting 48 tackles, including 29 solos. He led Drake with 19.5 tackles for losses totaling 90 yards, while recording a team-high 10.5 quarterback sacks for 73 yards in losses.
Taylor is entering his third season as a starter for the Bulldogs, who posted an 8-3 record last year, including a 6-2 second-place finish in the Pioneer Football League.