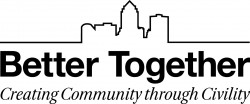 What does your address say about your beliefs? Are Americans sorting themselves into like-minded communities, making us so polarized that we can't understand others?
Bill Bishop, author of "The Big Sort," will discuss this topic and offer hope for overcoming these deep divisions at 7 p.m. Thursday, Sept. 16, in Sheslow Auditorium.
His speech is part of the Better Together — Creating Community through Civility speaker series, which began in June with a speech by Chairman of the National Endowment for the Humanities James Leach.
Drake is a partner in the series along with Character Counts In Iowa, the Community Foundation of Greater Des Moines and the Interfaith Alliance of Iowa.
These organizations believe civility is an integral part of strengthening our community and encourage individuals to read "The Big Sort" in preparation for Bishop's speech. The paperback is available for purchase at the University Book Store near Drake and Barnes & Noble Booksellers in West Des Moines.
Although Bishop's speech is free and open to the pubic, advance registration is requested. To register, visit www.BetterTogetherIowa.com. If you have questions, call 515-447-4220.