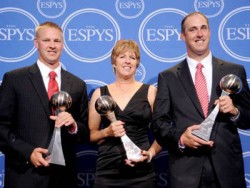 The Thomas family, from left, Aaron Thomas, Jan Thomas and Todd Thomas accept the Arthur Ashe Award for Courage at the ESPY Awards on Wednesday in Los Angeles.
Aaron Thomas, ED'01, recently accepted an Excellence in Sports Performance Yearly (ESPY) Award in honor of his late father Ed Thomas, a longtime coach with the Aplington-Parkersburg schools.
Ed Thomas, was honored posthumously with the Arthur Ashe Courage award, for his integrity and courage and dedication of more than 30 years of coaching.
"When you look at former winners and the company we've joined — from coach (Jim) Valvano, to the Tillman brothers to Nelson Mandela — and to think that our dad and the example he set at doing what's right has led us into the category," said Aaron Thomas after receiving the award.
Aaron Thomas followed in his fathers' footsteps in the athletic community. He was a guard and four-year letterwinner on the Drake basketball team from 1997 to 2001. While playing at Drake, he achieved the single-season free throw percentage record of .889 that he set in the 2000-01 season.
After graduating from Drake, Aaron Thomas became assistant principal of Union High School in La Porte City, Iowa, and now serves as athletic director at Aplington-Parkersburg schools.
"What a joy to see the Thomas family honored by ESPN for the integrity and courage of Ed Thomas," said Drake Athletic Director Sandy Hatfield Clubb. "Ed's son Aaron exemplifies his father's true character and we are proud to call him an alumnus of the Bulldog basketball family."
Ed Thomas coached in Parkersburg and earned the 2005 NFL High School Coach of the Year award. He had also won 292 games and credited with having the most high school players reach the NFL per capita. He was remembered for his role in helping the Parkersburg community recover after a devastating tornado in 2008.
"When I look at all the celebrities and stars and the people we see, the impact you can have on young people, the impact you can have on the world just by doing what is right is unbelievable," Aaron Thomas said. "That is the legacy we hope to continue by our father to carry forward what we were taught."