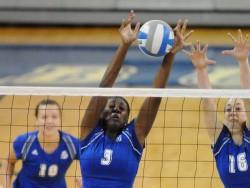 Drake volleyball players achieved a cumulative team GPA of 3.50 during the 2009-10 academic year.
The Drake University volleyball team is a recipient of the 2009-10 American Volleyball Coaches Association Team Academic Award. Drake was the only Division I team in Iowa to receive the award.
The award, which was initiated during the 1992-93 academic year, honors collegiate and high school volleyball teams that displayed excellence in the classroom during the school year by maintaining at least a 3.30 cumulative team grade point average on a 4.0 scale. Drake finished the 2009-10 academic year with an impressive 3.50 cumulative GPA.
The AVCA honored 94 Division I teams, including an NCAA-best nine Missouri Valley Conference squads.
The award marks Drake's second-straight AVCA honor for classroom achievement.
The Drake Volleyball season kicks off August 27 in Grand Forks, N.D. when the Bulldogs take on Gonzaga. Game time is at 11 a.m.