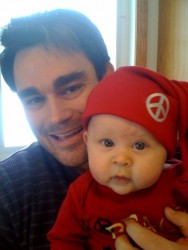 GT student Shaen Polasky with his son.
The online Gifted and Talented Endorsement Graduate Program for K-12 educators at Drake University School of Education began in 2007 with ten courses in compliance with the Iowa Department of Education GT Endorsement requirements. Courses are in four strands including, psychology, programming, administration and practicum. The program has students enrolled from 16 states and four countries including, Italy, England, and Japan. Presently, over 75 students have completed the GT Endorsement program and 225 students are currently enrolled in the GT courses.
Drake's GT courses have a 96% persistence rate (which means few people drop courses once they enroll), which is remarkable since the national drop rate is 20-70%. One student reported that this program meets the needs of busy personal and professional schedule, while another student stated she loved the flexible of the learning hours of the program. Instructor Kathy Paul likes teaching online because she is able to give precise instructions to her students.
Program Director Dr. Sally Beisser has found high levels of success in the computer mediated social environment for students to communicate with one another and share their work on line. "It's a perfect blend of using technology with content knowledge and pedagogical expertise, " Dr. Beisser stated.
Drake's GT Online Endorsement for K-12 Educators program has been awarded the Iowa Distance Education Association Point of Presence Award for Excellence. The instructors are wonderful, the content is high quality, and based on NAGC (National Association for Gifted Children) standards and, the technology is exciting. Busy people like the online convenience.