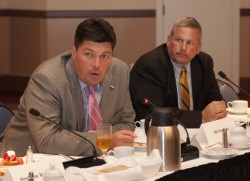 Russian Sen. Mikhail Margelov speaks at a luncheon Monday as Iowa Secretary of Agriculture Bill Northey listens.
A conversation in Levitt Hall turned into something much more on Monday, July 19, as World Food Prize President Kenneth Quinn invited Russian President Dmitry Medvedev to speak at next year's World Food Prize symposium in Des Moines.
Russian Sen. Mikhail Margelov, who serves as chairman of the Russian Federal Assembly's committee on foreign relations, received the invitation and told Quinn, a former ambassador to Cambodia, that he would pass it along to Medvedev. Margelov and his wife, Svetlana, are on a Midwest tour, which included their stop at Drake yesterday.
The meeting, which centered on agriculture and agricultural diplomacy, brought together a group of nearly 25, including:
Iowa Secretary of Agriculture Bill Northey
Rachel Garst, granddaughter of Iowa farmer Roswell Garst, who hosted Nikita Khrushchev in 1959
Neil Hamilton, the Dwight D. Opperman chair of law and director of Drake's Agricultural Law Center
Ed Verona, president and CEO of the U.S.-Russia Business Council
Quinn's invitation highlighted last year's World Food Prize speaker, Bill Gates, as a precedent for the venue's importance. A Des Moines Register article cited Quinn's invitation: "As someone who is capable of extending such an invitation, I'd like Senator Margelov to carry a letter from me to President Medvedev to come visit us in October 2011."
A rendition of "Peace through Corn," a short play about Khrushchev's unprecedented visit, followed Monday's conversation.