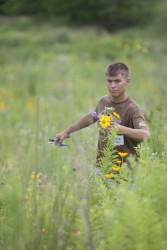 Kole Wilson collects wildflower blooms for identification.
A summer camp for central Iowa high schoolers interested in the environment is doing more than providing an opportunity to learn about prairie wildlife and plants.
The students are building confidence and developing their own vision for a career in science through the Drake and Metro Waste Authority Field Ecology Science and Stewardship Camp.
"The camp was designed to bring high school sophomores and juniors into the field to inspire and nurture a love for the environment," said Keith Summerville, associate professor of environmental science.
"The students have a morning session that exposes them to ecological techniques to understand plants and animals. The afternoon is devoted to stewardship activity."

Summerville and two Drake seniors — Jamie Lane of Hastings, Minn., and
Bret Lang from Kanawha, Iowa, — are leading the week-long camp at
Metro Waste Authority's 73-acre environmental protection area near
Runnels, Iowa. The site offers an outdoor classroom where participants
have hands-on experiences.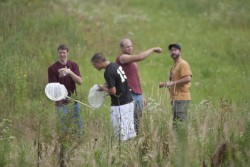 Keith Summerville, right, and Bret Lang, middle, talk to students about identifying different species.
Students from Southeast Polk, Newton, Prairie City/Monroe and
Roosevelt high schools are learning about and documented wildlife, including
plants, butterflies, dragonflies, small mammals, birds and aquatic
life. They are also identifying trees, map streams and plant native oaks.
Among the plant species students have collected during the camp are
butterfly milkweed, Compass plant and Culver's root. In addition,
students are documenting butterflies and dragonflies.
Majority of the species found during the camp were identified last
summer when Lane and Lang — who were instrumental in creating the
camp's lesson plans — conducted research on the Metro Waste property.

"When you know the land and area, it is easier to think of projects
and tasks that you can do out here," said Lane, who is the teaching
assistant for the camp and plans to graduate in December.
"I learned a lot going through the lesson plans. This is definitely what I'd want to do if I was in high school."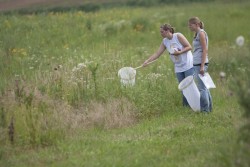 Jamie Lane and Beth Schaefer look for butterflies and dragonflies.
"This is quite a project," Lane said. "Our work last summer has
helped to set this camp up nicely. We have a good idea of where
different species are located."
When asked about the experience, many of the high school students gave the camp a positive review.
"This camp is very interesting," said Southeast Polk sophomore
Davis Horton. "I'm into hunting and fishing and am getting more
interested in biology."
For many of the students, the camp intrigued them because of their love of being outdoors.
Newton junior Kole Wilson, who is particularly interested in small
mammals and game birds, said his biology teacher told him about the
camp.
"I love to hunt and fish and am interested in going into the Iowa Department of Natural Resources one day."
"Six out of the seven students have asked if we are going to have
this camp again," Summerville said. "They said they want to do the camp
again and that they will tell their friends.
"The fact that these students are choosing to spend their summer
vacations learning instead of vacationing shows their willingness to
make some sacrifices for science and stewardship."