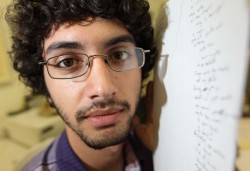 Jordan Murphy in a photo by Des Moines Register photographer John Gaps III.
Jordan Murphy, a recent Drake University graduate, is taking part in the 2010 Grinnell Artist Residency, a four-week program under way at the Lacina family farm just north of Grinnell, Iowa.
Murphy, a native of Wright City, Mo., was selected for the program as part of a mixed group of five emerging artists and writers from Iowa colleges and universities.
The other individuals in the program are:

Jonathan Happ of Iowa State University
Gillian Hemme of Grinnell College
Molly Moser of the University of Iowa
Benton Schoenrock of Grand View University
The residency encourages the students to work on individual projects and to collaborate on group projects to create a final show.
That show will be held from 4 to 8 p.m. Friday, July 23, and 10 a.m. to 2 p.m. Saturday, July 24, at the Grinnell Arts Center and Gallery in downtown Grinnell.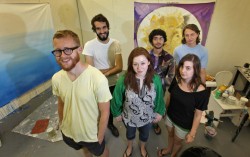 A group photo of the workshop participants taken by Register photographer John Gaps III.
"I am passionate about working with other artists and seeing how they
approach things," said Murphy, who graduated from Drake last May with a
bachelor's degree in writing, history and religion. "Everyone has a
different approach, which offers a unique view into their process."
Each student faces a variety of challenges in both the individual
work and the group project, Murphy said. Some of the challenges he said
he faces are an open structure in which he must plan what he wants to
accomplish, as well as transforming his writing into visual art.
Des Moines Register columnist Kyle Munson recently visited the workshop and wrote a column about it.
Following the residency program, Murphy plans to attend the
University of Missouri-Kansas City to pursue a Master of Fine Arts in
creative writing.